The featured events slider was launched for venue managers on April 1st, 2017.  This functionality will be available in the near future for Promoters and Artists.
1. Claim the Venue
To claim your venue and activate the featured events slider, you must be a venue manager account type. Check your account page (left panel) to see if you are a "Venue Manager" of any kind, if you aren't, just email [email protected] and we'll update your account type.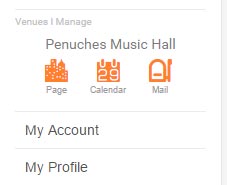 Next, you must ensure that the venue you want to feature events for is claimed.   If you believe you have claimed the venue -verify the process is complete by looking at the panel on the left to check that venue is listed in the Venues I Manage section (pictured right).  If your venue is claimed and approved in your account, it will look like that, with three icon-links.
If your venue is not claimed, search for the venue with the search bar at the top, then click "Claim this Page".
2. Activate the Featured Events Slider for Your Account
Once your claim is approve, visit the venue page by click the "Page" icon in the Venues I Manage section of your left-side MusicIDB control panel.
Click on "Embed"
Select "Featured Slider" in the Widget Type dropdown and click the checkbox that says "Enable Featured Events for this venue".
3. Featuring Events
Now whenever you edit and event, either with the Add/Edit pop-up screen for each event on your dashboard, or by clicking edit on the Event Listing or Manage Event screen, you will be able to feature any event at the venue you have claimed.
Bear in mind only upcoming events will appear in the Featured Events slider.  If no events are featured, the nearest upcoming events will be displayed.
4. Featured Event Images
The Featured Event slider will look best when you create an image for it that is 900px wide by 350px tall.   If you do not select an image, the event's Poster image will be used, and if no poster is available, the artist's image will be used.  The poster and artist image will fill to the width of the slider, but only show the top portion of those images that fit in the 350px tall space for each slide.
To insert your own Featured Slider Images, edit the event from the event listing page on MusicIDB, or the Manage Event screen for that event.  The "Set List Manager" link next to each even on the dashboard, goes directly to the Manage Event screen for each event.
On the edit event scren, you will see Images, where you can upload the Featured Event Slide image.
Embed the Featured Event Slider on Your Website
The last step is to return to the Embed pop-up, grab the code for the Featured Event Slider, and insert it into your website. Email [email protected] for free assistance with this process!